Journal of Clinical & Anatomic Pathology (JCAP)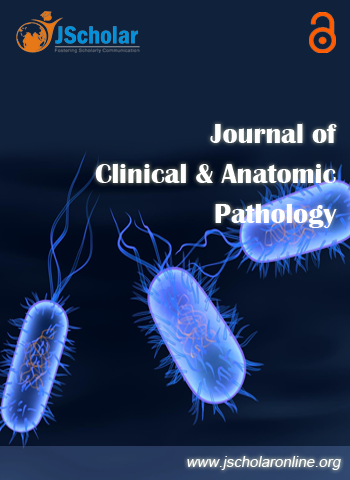 | | |
| --- | --- |
| Subject: | Clinical & Anatomical Pathology, Hematopathology, Histopathology, Molecular Pathology, Surgical Pathology, Dermatopathology, Forensic Pathology |
| Email: | jcap@jscholaronline.org |
| ISSN NO: | 2332-4864 |
Journal of Clinical and Anatomic Pathology (JCAP) from JScholar is an online open access journal, which publishes articles on quarterly basis. It aims to publish the concurrent research trends in clinical and anatomic pathology. JCAP is dedicated to the publication of pathology research works and accepts suitable articles pertaining to the pathology and its allied divisions.
RESEARCH HIGHLIGHTS

Dengue is a vector transmitted viral infection was associated with high maternal and perinatal mortality. In view of poor obstetric outcomes, this viral infection warrants early admission and prompt management.

There has been an increase in the use of fine needle aspiration cytology (FNAC) for the diagnosis of parathyroid lesions (PLs). Differentiation between a thyroid lesion and a PL is not easy because of their similar features. We reviewed parathyroid aspirates in our institution and aimed to uncover trends in diagnostic criteria.

Circulating tumor cells (CTCs) have been reported to be a relevant prognostic biomarker in metastatic patients. However, their clinical use and impact is still under debate. We have thus comparatively and kinetically assessed two CTC detection methods according to the patient\'s clinical follow up