Journal of Anesthesia and Surgical Care (JASC)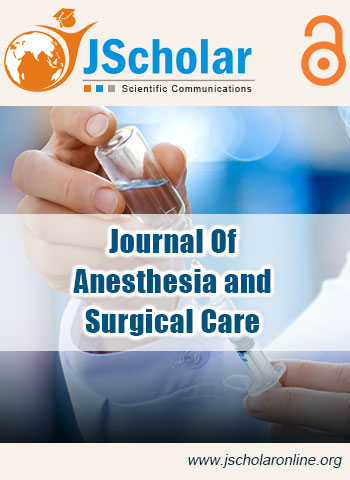 | | |
| --- | --- |
| Subject: | Clinical anesthesia, Surgical reports, Intensive care, Anesthesia/Anesthetic Drugs, Clinical Anesthesia, Anesthetic Agents, Pain Management, Anesthetic drugs, Perioperative medicine, Sedatives and Muscle Relaxants, Pre and Postoperative anesthetic care |
| Email: | joa@jscholaronline.org |
| ISSN NO: | Under Process |
Journal of Anesthesia and Surgical Care (JASC)  is an open access journal, that publishes articles covering fundamental and applied research in all disciplines of anaesthesiology  mainly focussing on Obesity and Anesthesia, Pediatric Anesthesia, Seniors and Anesthesia, Neuraxial and Regional Anesthesia, Allergic Reactions and Surgery, Anesthesia Sedation, General Anesthesia, Regional Anesthesia, Local Anesthesia, Cardiac Anesthesia, Anesthesia and Malignant Hyperthermia, Anesthesia Awareness.
RESEARCH HIGHLIGHTS

The report of two cases of ischemic optic neuropathy after hip and shoulder arthroplasty under general anesthesia. One of them is the first reported posterior ischemic optic neuropathy after shoulder surgery up to our knowledge.
Skin offers easy access, convenience and non-invasiveness for drug delivery and diagnosis. In principle, these advantages of skin appear to be attractive for critically ill patients given potential difficulties that may be associated with oral and parenteral access in these patients.

Continuous infusion of local anesthetics in surgical wounds has been shown to be an effective technique for postoperative analgesia. To investigate the potential antimicrobial effect of continuous local anesthetic infusion, we adapted a mouse model of surgical wound infection to examine effects on antibacterial response.